Tennis Instructor A62489 USNTA Certified | Diego M. Arias | Tennis Lessons in Miami, FL
1228 West Ave. • # 1109
Miami, Florida
Tennis Coach • Individual & Group Lessons • 786-290-7970
I'm with two of my students, Lorena and Natalia at Harbor House, BAL Harbor, Miami, Florida.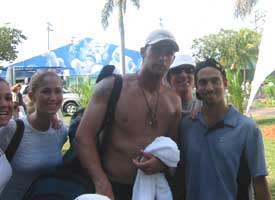 At the NASDAQ 100 I had the opportunity to meet many of the professional players.
Two great players of my country, Argentina; Lionel Berlanga (left), Rijard Perez (center), and me. Both are champions of many national tournaments in their categories. Here, they're here in Miami training for upcoming South American tournaments.